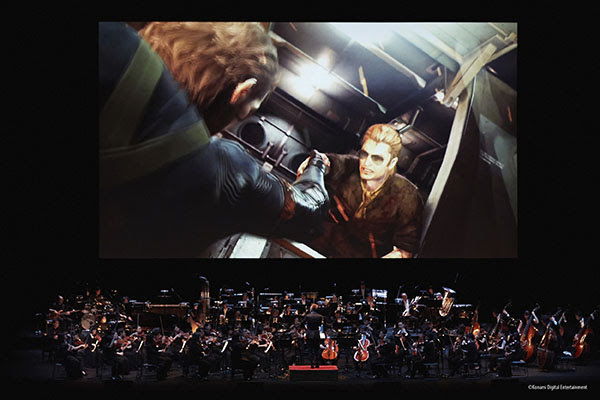 Those of you who know me, know I love Metal Gear, with trying to boast to hard I've interviewed David Hayter, Quinton Flynn, Troy Baker, Paul Eiding, Kris Zimmerman, Stefanie Joosten, Christopher Randoplh, Donna Burke, Rika Muranaka, and MANY more. To say this event is a must see would be an understatement. The music of Metal Gear preformed live to a video background sounds kinda like what I do every weekend when I listen to the sound track while playing games. Metal Gear has and is become such a huge part of some of our lives, this really makes me happy to be a Metal Gear fan.

The shows take place in NYC and LA this coming spring, starting in New York (March 23) before moving to Los Angeles (April 6). The concert will feature more than 70 musicians on stage, including METAL GEAR singer Donna Burke, and HD footage from the game will be projected on a giant screen in perfect sync with the music. Reviving the most memorable moments of the game, the concert will feature the best music from the METAL GEAR Solid games, with background music (BGM) like the "Main Theme," "Encounter," "Father and Son," not to forget memorable songs such as "The Best is Yet to Come," "Snake Eater," and "Heavens Divide," which will be sung live by Donna Burke. Needless to say this is one you don't wanna miss boss!

Tickets on sale here:
Schedule and Ticketing information
Tickets are now available at www.ticketfly.com for both show.
New York (USA) – March 23, 2019 – United Palace
Direct Link :https://www.ticketfly.com/event/1673909-metal-gear-in-concert-new-york
Los Angeles (USA) – April 6, 2019 – Willshire Ebell Theater
Direct Link :https://www.ticketfly.com/event/1677230-metal-gear-in-concert-los-angeles
More info at www.wildfaery.com

Check out the YT Trailer here: